Welcome To Vancouver West Chiropractic Clinic
Welcome to the web site of Vancouver Chiropractor: Dr. Andrew Spence. The office has existed at this location since 1986 and has provided chiropractic services to Vancouver's lower mainland residents with consistent and up to date care. It is a priority at the office that all patients are treated individually and receive their specific care requirements.
Chiropractic care is effective, safe and it works. The practice of Chiropractic is able to relieve many painful sprains and strains and works with your body's natural healing powers. Combining Chiropractic care, advice on proper lifestyle habits, it is our goal to enhance your body's healing ability to achieve as full of a recovery as possible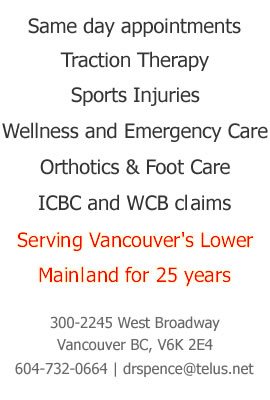 What do we treat? Our office is equipped with a variety of treatment protocols so we may address each individuals needs accordingly. We have Cox-decompression therapy , drop piece adjusting, activator and numerous modalities. We also advise specific exercise protocols to ensure your healing will be as quick as possible. In many instances nutritional therapy will be recommended, depending on your circumstance these additions can help.
New Study Results
The Right Choice for Relieving Back Pain: "Spinal High Velocity Low-Amplitude Manipulation" clinically superior to medication, placebo for acute, nonspecific LBP. This study's results clearly shows that 'Chiropractic Manipulation for low back pain should be the first choice for acute low back pain suffers. : Spine, April 2013;38(7):540-48